Miñoca
Location: Parque Infantil Miñoca. Praza da Miñoca, 6a, 36209 Vigo, Pontevedra.
Surface: 2000 m2
Materials: Robinia wood, galvanized steel, stainless steel slide, polyamide ropes with steel cables.
Size: climbing structure of 8.7×5.2×2.8 m.
Age: climbing frame for ages 6 to 16 years old.
Capacity: climbing structure for 15 users..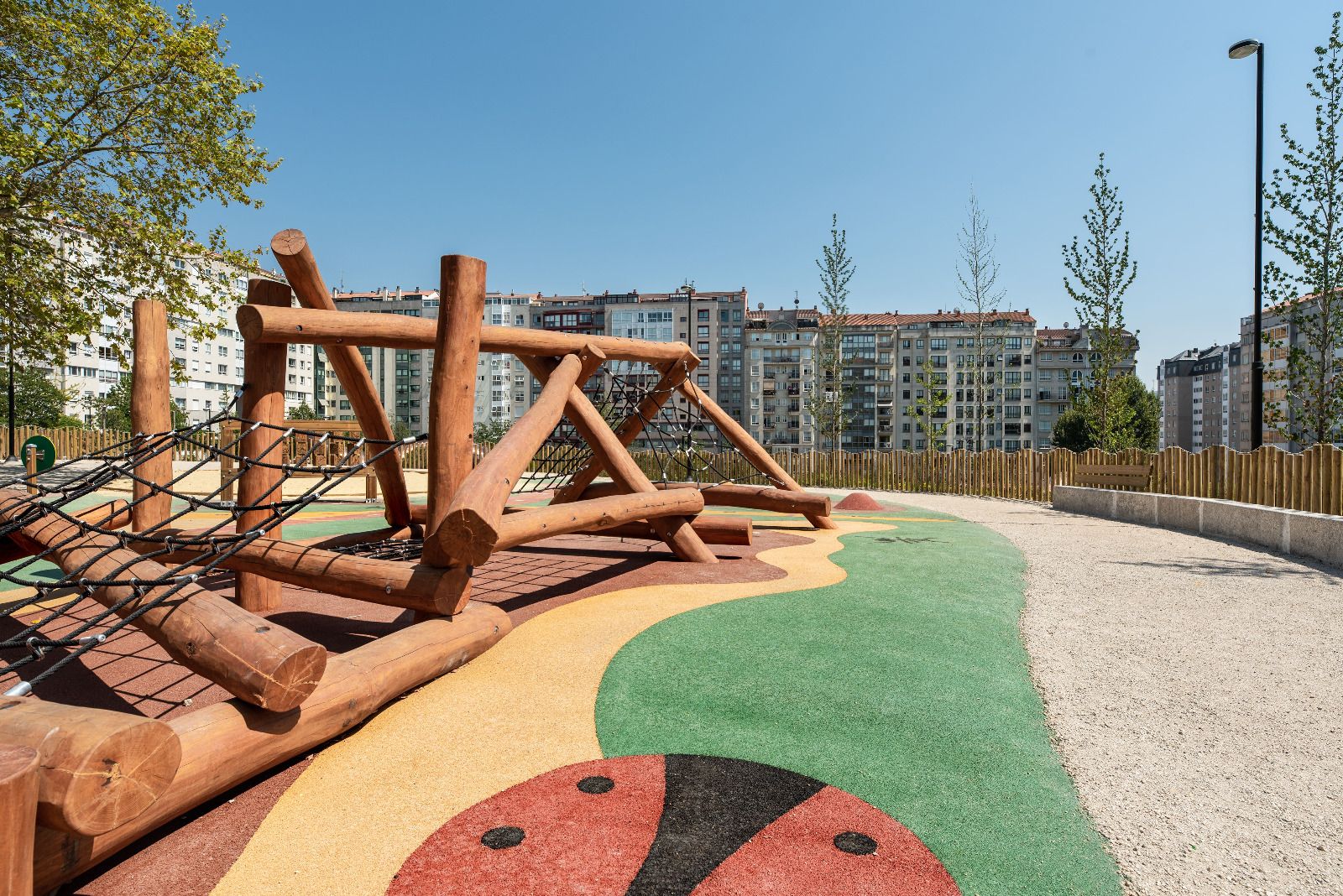 Within the Plaza da Miñoca there are three zones in the eastern part:
AREA BETWEEN TREES
Respecting the pre-existing trees in the area, and around them, a circuit of the Natura range made of robinia wood is proposed. An opportunity to play under the shadows of the trees and to strengthen the relationship with nature.
CRATER AREA
Space of topographic value that adds surprise to the experience of this park. You descend into this more secluded, more intimate and at the same time more dynamic space, through various game elements: slides, tubes, nets… Maintaining the focus on the relationship with nature, the pavement that we find in the center of this space it is pine bark.
SAND AREA AND PETROGLYPHS
Next to the parents' area, and intended for the little ones, there is a large circular sandbox. This sandbox, located under the shade of the trees, includes a great surprise inside, it is about "petroglyphs" that will make the little ones feel like authentic archaeologists. For educational purposes, the motifs in this game are based on Galician petroglyphs. In addition, these motifs can be found on the wooden puzzle that is located next to the sandbox. Thinking about the inclusiveness and accessibility of the park, this puzzle can be played from inside and outside the sandbox. This space is dotted with other accessible and universal elements: active panels, trampolines and a multi-textured platform designed exclusively for this space.
Finally, swings and in the center, a large climbing structure with ropes, posts and beams so that older children can demonstrate their skills while using it as a meeting point, complete this space.
Photographs provided by Xestión Ambiental de Contratas.